Firewood Cherry 25cm in a Large Carton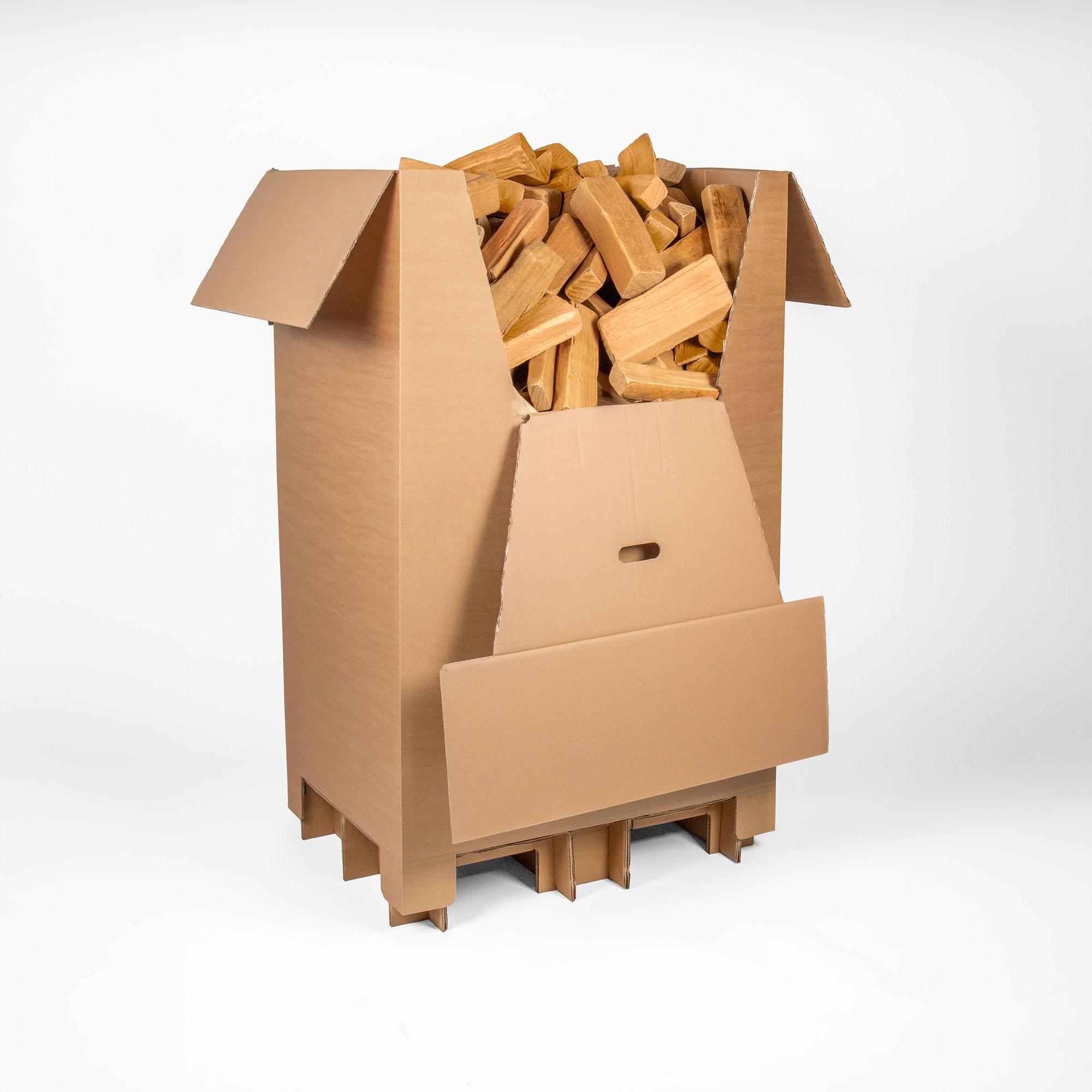 Quantity: 0.5 srm (Equivalent to approximately 190kg)
Large box for practical storage
Unique reddish colour
High-quality cherry wood from Austrian forests
Splinter-, dust- and insect-free
Cardboard 100% recyclable after consumption
Cherry wood is a rare and very high-quality type of firewood that is distinguished by its characteristic reddish colour. But not only that - it also delights with an incomparable flame pattern that has a fascinating green-bluish hue and burns calmly and leisurely. Cherry wood ignites quickly and provides a pleasant warmth that transforms your home into a cosy oasis.
As a hardwood species, the cherry wood is free of resin, which ensures that it burns without flying sparks and is therefore safe to use. The logs have a length of 25 cm and are perfect for smaller stoves and barbecues, giving you flexibility of use.
Our cherry firewood is carefully processed and is splinter-free, clean and also rounded due to our special production process. This process not only gives the firewood its aesthetically rounded appearance, but also an incredibly pleasant feel. The logs are packed in large cartons, which offers you maximum convenience. This makes transport, storage and removal child's play.
Experience the exclusivity of cherry wood - a rare and high-quality choice that will enchant your home with a beautiful flame pattern and cosy warmth. Ideal for indoor and outdoor use - our cherry wood in a large box guarantees you a special fireplace experience.
We guarantee the highest product quality through continuous checks of our drying systems and analyses of residual moisture. Our production processes are designed to be sustainable and efficient in order to keep the ecological footprint of our firewood products as low as possible.
The firewood drying process is particularly efficient, as the wood is dried to a residual moisture content of less than seven percent within seven days. To speed up the process, the firewood is regularly moved around in the drum, the positive side effect of which gives the firewood its characteristic shape.
By default, a telephone advice is planned for every order in order to find an ideal time that suits our customers for a smooth and fast delivery. After your order, we will contact you within a few working days to clarify the delivery details. If the telephone advice is not necessary for you, you can cancel the service in the course of entering your address data. Without telephone advice, your firewood will be delivered in just a few days and is therefore the fastest delivery method.
In selected regions, we use our own delivery vehicles and are therefore particularly flexible. Our trucks have a lift truck with them to manoeuvre the delivery to the desired storage location at ground level - for example, in a carport or in an underground garage.
Smaller quantities are shipped with parcel services. In Austria we ship with the Austrian Post and in Germany we cooperate with DHL or GLS. You can see whether it is a parcel delivery in the shopping cart.
Our raw material comes exclusively from Austria, such as the Vienna Woods or the Mittelburgenland. Sustainable forest management, in order to maintain the performance and productivity of forest ecosystems in the long term and to ensure the preservation of biodiversity throughout the forest area, is very close to our hearts. For this reason, we select our suppliers very carefully and build on long-term partnerships. The firewood production site is located in the Austrian Burgenland, directly on the southern motorway. This geographical location also enables short transport routes from the surrounding forests and fast onward transport to our customers.
Firewood is a renewable fuel and, unlike fossil fuels such as oil, gas or coal, it burns in a CO2-neutral way. This means that when it burns, the fuel releases the amount of carbon dioxide that the tree needs during its growth phase. The heat for the drying process is largely generated by electricity generators from a biogas plant located in the immediate vicinity, and the production waste is also reused in our heating plant. Without us, the energy from the power generators would be released into the atmosphere. Good coordination and cooperation enables us to dry the firewood as environmentally friendly and efficiently as possible.
Select Wood
Select Log Length
Select Packaging
Select quantity
Prices incl. VAT and Delivery to Czech Republic